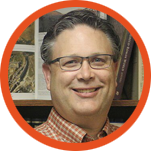 PAUL LUEDKE – SENIOR PASTOR AND ELDER
Paul Luedke has served as an Elder and Senior Pastor at The Bible Church of Brownsburg in Brownsburg, Indiana since June, 2015.  Prior to his arrival in Indiana, Paul served as an Elder and Associate Pastor at Grace Bible Church in Naples, Florida and as a lay leader in adult ministries at Grace Community Church in Sun Valley, California.  Paul is a graduate of The Expositor's Seminary in Jupiter, Florida where he received his Masters of Divinity degree.  His ministry goal is derived from 1 Tim. 1:5 "But the goal of our instruction is love – from a pure heart and a good conscience and a sincere faith."  Born and raised in Southern California, Paul and his wife Jennifer were married in 1992 and have three grown children.  Paul and Jennifer's greatest joy in ministry is to see fellow believers become complete in Christ as they grow in their love for God and His Word.

DAN HURT – ELDER
Dan and his wife, Karen, came to Bible Church of Brownsburg in July 2004.  He began serving as an elder in January 2008.  Dan works in the finance industry and is originally from Crawfordsville, Indiana.  He enjoys reading  a variety of topics (especially theology) and coming along side others to serve and minister to them.  Dan and Karen have three sons.
FRED CLINE – ELDER
Fred and his wife, Jenny, came to the Bible Church of Brownsburg in June of 2015.  He began serving as an elder in October of 2018.  Fred worked in the pharmaceutical industry, first as an engineer then in engineering and manufacturing management, for 35 years before retiring in December of 2017.   Fred now enjoys a very active retirement including the pursuit of woodworking with hand tools.  Fred especially enjoys the study and teaching God's Word.  Fred and Jenny's family include four adult children, their spouses and eight grandchildren.